Water Damage Restoration Services in Baltimore, MD
Dealing with the aftermath of a storm or even a flood that has damaged your property can be difficult. When you do not know where to look for professional water damage restoration, the condition worsens.
There is no chance for indecision when dealing with water damage or a flood situation. You have to call emergency water restoration near me, or your furniture, rugs, carpets, and other appliances will be a considerable loss. Water damage also leads to mold growth, which exposes your family to potential health issues.
For water damage restoration services in Baltimore, MD, contact eM.Di Carpet Cleaning Baltimore. We provide experienced residential and commercial water damage restoration services. We have advanced equipment and experienced professionals who understand how to get rid of water flooding your house. What's more, we work together with the excellent professionals at Flood Damage Pro for all kinds of water damage restoration jobs, from relatively simple to complex. This allows us greater flexibility in scheduling water damage for our customers and ensures a rapid, emergency response.
Our water damage cleanup professional team is based in Baltimore, MD, and is available 24/7 for efficient water removal and restoration.
What Can Cause Water Damage
Breaks in plumbing systems lead to water damage in our homes and offices. If you leave water taps on, the chances are that you will face a flooded home upon coming back home in the evening. Blocked sinks and sewer lines also lead to flooded toilets, and water begins spilling over, resulting in severe water damage.
Apart from the plumbing mishaps, water damage can occur following a natural catastrophe such as flooding or storms.
Regardless of the cause of water damage, it helps if you call for our experienced water damage restoration service to handle the situation.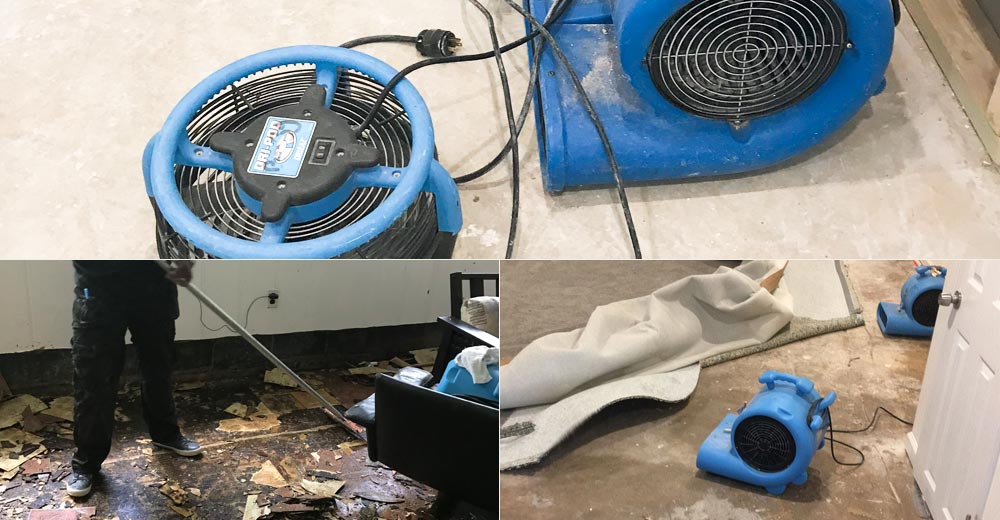 Restoration After Floods and Storms
After a storm or a flood, you need restoration to protect your property, your health, and your loved ones. Storm and flood restoration requires a careful approach. This is because electrical faults during floods can result in damaged electrical cables, resulting in electrocution if you are not careful.
Contact eM.Di Carpet Cleaning Baltimore for professional storm & flood damage restoration.
What To Expect During Water Damage Restoration
Here is an overview of our approach to residential and commercial water damage restoration services in Baltimore:
Water Extraction Drying and Dehumidifying

On arrival at your home, we stop additional water from flowing into your home before embarking on the extraction of the water that has already come into your house. Our staff wears protective clothing and other safety gear during the extraction process to avoid accidents.

We arrive on-site equipped with water extraction pumps to ensure an efficient water removal service. Our heavy-duty equipment will extract all water within minutes and ensure responsible disposal. Besides, we have huge water tanks, enabling us to remove all the water within the shortest period.

Upon extraction, we embark on drying and dehumidifying. We apply heavy-duty dehumidifiers to make sure the process is much faster. To prevent mold growth, we must dry the property as quickly as possible.

Demolition of Damaged Materials

After the property has dried appropriately, we begin demolishing the damaged materials. This includes the removal of areas of drywall that got wet, carpet pads, and other building materials. We use the right equipment to avoid unnecessary damage to your appliances and the house furniture.

We carry all the damaged items and dispose of them accordingly and responsibly to avoid any issues with the law enforcement agents.

Cleaning and Disinfecting

Finally, we clean the carpets, rugs, and the floor and rearrange your home or office. Throughout the process, we use friendly detergents to avoid causing further damage to your property. Our water damage cleanup professionals apply the correct cleanup methods and leave nothing to chance to ensure your house is livable. We also offer mold removal, carpet cleaning, and other house cleaning services.
Water damage restoration is a daunting task that requires expertise and experience. If looking for the best water mitigation and restoration available, look no further than eM.Di Carpet Cleaning Baltimore or call us: 410-864-8452. We are the leading water damage restoration service ready to respond immediately. We offer 24/7 availability, and we have the right equipment guaranteeing our customers efficient water removal.