Mold Testing Services in Baltimore, MD
For Baltimoreans who search for words like "professional mold testing services near me" and are tired of the mold in their homes, this page is for you.
Mold growing in your home is dangerous. It has been known to adversely affect homeowners by:
Causing respiratory illnesses
Producing musty smells in the home
Causing discolorations of surfaces
Decreasing the economic value of furniture and properties in general.
If you are reading this as a homeowner or tenant, you probably have experienced some of these effects caused by mold. You need professional help to recover your property.
At eM.Di Carpet Cleaning Baltimore, we provide one of the best mold testing and inspection services in the whole of Maryland. And you can be assured you will be satisfied.
How We Perform Professional Mold Testing
The reason why mold testing is important in professional mold services is:
to confirm that there is a mold problem,
to know the type of mold we are dealing with,
to understand the extent the professional will go in removing the mold.
The first step we take in mold testing is: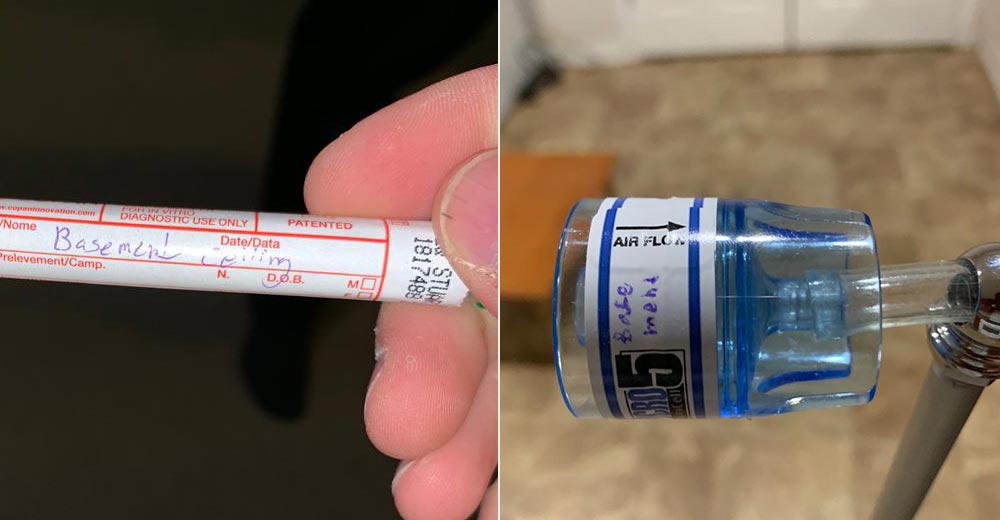 1. Environmental Analysis: Visual Inspection
As professionals, we need to properly check and analyze the environment. There may be more mold present than earlier reported by the client, as mold can survive in totally unexpected areas.
Spaces between the furniture and the wall, under the carpet and rugs, places exposed to leakage and moisture, etc. are areas that need to be observed.
2. Taking Surface and Air Samples
We take samples from areas that are infested by mold. This step is important in the mold testing process as it will give insight into how the situation at hand can be handled. After taking surface samples, mold air sampling and air quality test is then carried out. The air quality of the home can prove that there is a mold infestation.
3. Sending the Samples to the Laboratory
The samples are sent to the laboratory to be analyzed by another set of experts. We use an independent, certified testing laboratory for unbiased results.
Each sample is examined carefully at the laboratory, and it is analyzed quantitatively for both the type of mold, and the density of that mold in the sample. Since there are many different mold strains, an individual sample can show more than one type of mold.
The sample will make sense only in the context of comparison with what the mold concentration is typically in the area around the property. That is why we usually take a control air sample from outdoors so that they can be compared.
4. Sending in the Laboratory Results
Our team will receive the results from the laboratory, and develop our recommendations for the on-site mold removal process. If you agree, we can proceed immediately with mold remediation.
A problem ensues when clients ignore those recommendations for one reason or the other. Homeowners should accept professional help when it comes to the mold testing and removal process.
Our Mold Testing Checklist
We offer a wide range of mold testing services and they include:
Air sampling
Surface sampling
Visual mold inspection
Mold source investigation (using humidity meter and infrared imaging to search for water leakages, moist and damp areas)
Black mold detection
Our Mold Testing Cost
We are relatively affordable. There is no rigid, unbending price for our home mold testing services, as clients' demands vary.
So, our mold testing cost is determined by the number of samples, areas to be visually inspected, black mold testing, air sampling and test demands.
So How About Mold Testing in Your Space?
If you continue to sleep with mold in your home, the economic value of your home will drop very soon. Then, you will need to carry out a major renovation or remodeling which will cost more.
If you're considering a mold testing or remediation service provider, you don't need to be bothered about whom to call for your mold inspection, testing, or remediation process. Contact eM.Di Carpet Cleaning Baltimore at 410-864-8452!