Mold Remediation Services in Baltimore, MD
If your property recently experienced water damage, flooding, or a leaky roof, there is a good chance you have a mold problem. Typically, the moisture combined with certain organic compounds found in most materials in your home make it a great place for mold. That is why when you have any type of water damage, there's a good chance that mold remediation will be necessary. Otherwise, the mold growth can cause allergic reactions such as itchy eyes, sneezing, and nasal congestion.
Our mold remediation services in Baltimore involves the complete removal of mold and treatment of surfaces in the affected area to prevent future growth. Are you looking for professional mold remediation near me? eM.Di Carpet Cleaning Baltimore provides professional mold removal services in Baltimore.
Benefits of Hiring Professional Mold Removal Services In Baltimore, MD
There are many reasons why dealing with mold is best left to the certified professionals. Some of these include:
Better Health. - While the side effects of mold exposure depend on an individual's sensitivity, prolonged exposure may lead to chronic respiratory infections. Cleaning up the existing mold reduces the health hazards in your home. Unfortunately, DIY mold removal will only release more mold spores into the air, exposing you and your loved ones to increased risk.
We Will Identify the Source of the Problem. - Hiring a mold remediation specialist is the only way to address the root cause of mold growth. Therefore, mold will not recur so long as you keep the place dry.
Save Money. - Hiring a licensed mold remediation company may seem expensive. However, leaving the mold issue unaddressed will cause more complications that require thousands of dollars to control. A professional will get rid of mold and eliminate the cause, leaving long-term benefits and saving you money in the long run.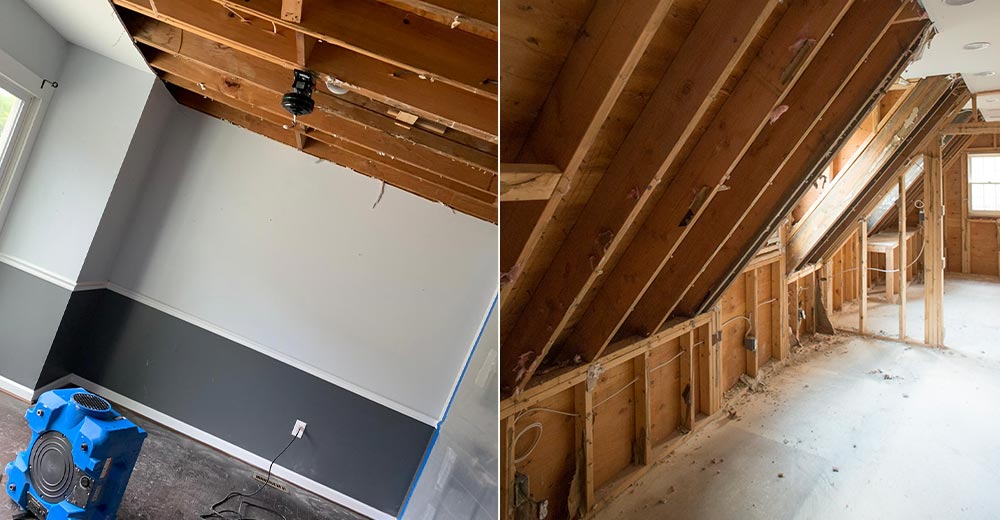 What Are The Steps For Proper Mold Removal?
At eM.Di Carpet Cleaning Baltimore, we are a licensed mold remediation company serving commercial and residential customers. Our professional mold treatment process follows industry standard steps. Here is an overview of the steps we follow when offering mold cleaning services:
Step 1: Inspecting the Mold Problem and Creating a Plan
On arrival at your premises, our mold cleanup specialist will first inspect the mold situation in your home. Once we see the full scope of the problem, we will develop a customized mold remediation plan.
Step 2. Work Area Set Up
Our mold specialists will remove personal items from the affected area and covers the remaining items completely with sheets to avoid mold contamination. We will then seal off the room completely to prevent mold spores from spreading to adjacent rooms during removal.
Step 3: Removal Of Unsalvagable Materials
Mold can often grow on porous materials such as carpets and drywall. Not all porous surfaces can be cleaned and must be disposed of appropriately to get rid of mold growth.
Step 4: Getting Rid Of Mold
We will apply special mold treatment chemicals to the affected surfaces and materials. At this stage, the mold remediation specialist targets all areas indicated during the preparation phase.
Step 5: Final Cleanup
Our final mold cleaning step will ensure proper cleaning of all non-porous materials and wood surfaces. The mold specialist uses a wire brush and wipes to clean all the areas. After adequate cleanup, we will dispose of all brushes and wipes used during the process.
Hire Professional Mold Remediation Services in Baltimore
If your mold inspection report shows that your premise is has mold, do not hesitate to call us. eM.Di Carpet Cleaning Baltimore, MD has experienced and licensed mold remediation specialists on staff serving commercial and residential customers. Call us today at 410-864-8452 - for a free consultation or to learn more about our mold remediation process!