Hardwood Floor Refinishing in Baltimore, MD
Protecting Your Investment
Did you install hardwood floors in your home for their durability and appearance?
The number one way to protect your investment in your floors is to maintain the finish. The finish on your hardwood floor is not just cosmetic. It is actually a thin and hard layer that protects the softer wood of the floor.
This protective layer gradually wears away over time, which is what you want, because otherwise the hardwood would get worn away instead.
eM.Di Carpet Cleaning Baltimore is proud to offer our hardwood floor refinishing service to Baltimore-area residents and business owners. Hardwood floors are a luxurious and beautiful choice for your home or business, and we are happy to help you keep your wood floors looking their best. Our hardwood refinishing team is experienced and will leave your floors shining like new again.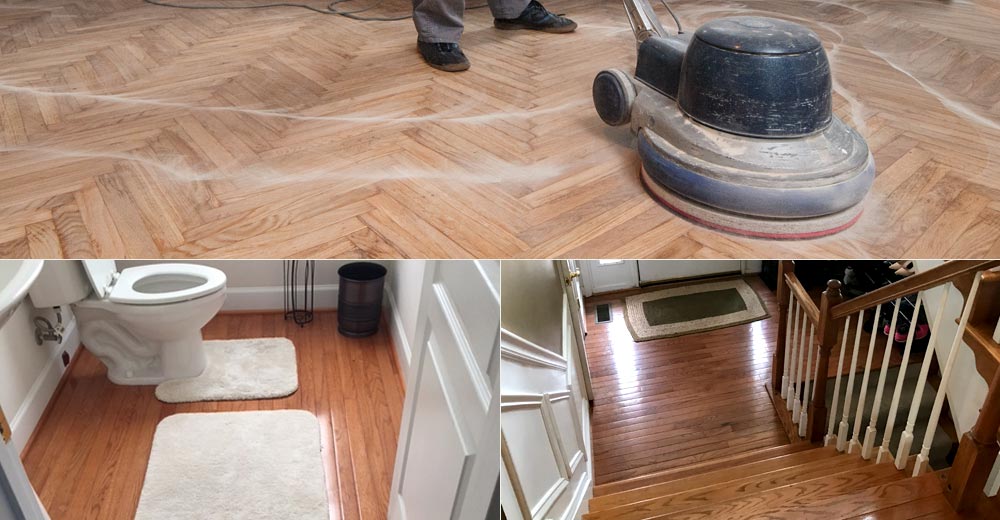 Taking Care of Your Hardwood Floors
Recoating hardwood floors is faster and more cost effective than completely re-sanding. Some of today's engineered floor boards can only be sanded one or two times over the floor's lifetime. Today's hardwood finishes come with a glossy or matte finish built in, so just tell us which look you prefer.
Screen and Recoat
If the finish is not worn off anywhere and the hardwood boards are in good shape, with no discoloration or damage, a simple recoat may be just what you're looking for.
Our friendly and skilled technicians clean the floor completely of dust, dirt and other particles.
They skillfully abrade the surface of the existing finish so that the new coat will stick. This can be by manual abrasion with screens and a rotary machine, or by chemicals.
The floor is cleaned again, to get up every speck of dust.
The new finish is applied to the floor, for that like-new shine you've been looking for.
Sanding to Bare Boards
If the bare wood is exposed in any spot from wear, we can sand the entire room down to the boards, re-stain the floor, and apply a fresh coat of urethane finish to make the hardwood floors look new again. This treatment allows our technicians to repair small damages to the wood, such as scratches from your pet's nails, which may still be visible after a screen and recoat. Sanding is by its nature dusty, but we minimize this inconvenience to you by using professional dust containment equipment.

Call us now at 410-864-8452 and start enjoying your hardwood again. eM.Di Carpet Cleaning Baltimore is fully licensed and insured. Your satisfaction is guaranteed.